Wiretap Records is a label that holds a special place in 1340mag's hearts. In 2015 Jim1340 and I easily agreed that Wiretap was the best new label we'd seen in a long time. Now in year two, we're even more excited by what Rob Castellon has released to the world. 2016 brought a string of compilations and six releases. This review covers the latter half of their catalog from last year.
Get Married - Into the Cosmos - Released: December 9
Opening with an 80's rock influenced guitar riff Get Married brings four tracks of pop-punk with a bit of a doo-wop flair. I've never heard a band meld together such apparently discordant styles of music this effectively. Personally, I feel the true banger of this album is the punkiest track "Kingpin" that also features some gospel-influenced chorus vocals. The guitar playing on this record is top notch with some seriously face-melting guitar solos. If you've ever wondered what Craig's Brother's Homecoming would have sounded like without the massive Lagwagon influence, this EP is for you.
Wolves & Wolves & Wolves & Wolves - The Cross & The Switchblade - Released: September 16
Opening with a train howl Wolves x4 brings us their second full-length and an excellent follow up to their Scars EP Wiretap put out last year. This band is a huge conundrum for me. Musically they put out some ripping punk rock that fans of Hot Water Music, Strike Anywhere or Off With Their Heads will relate to. Lyrically though I struggle with Brian Woodall's post-Christian perspective. Like David Bazan's Curse Your Branches, The Cross & The Switchblade deals with the decision to walk away from the Christian faith. Accordingly, this is a very intense listen that shimmers and shines with seething rage bubbling at its surface.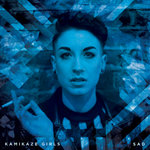 Kamikaze Girls - Sad - Released: September 2
The recent resurgence of grunge and shoegaze is something that has caught both my ear and heart. Kamikaze Girls are a British two-piece that have put out this wonderful EP of seething punky grunge rock that would have made Mr. Cobain proud. Fans of Balance of Composure and Pity Sex for more modern comparison's will find the work of this duo a welcome addition to their collection. Lucinda Livingstone alternates between ferocious screaming yelps and an excellent singing voice. Riot Grrl is not dead.
Watch for Horses - Maladaptive Daydream - Released June 17
Watch for Horses play jazzy sun-drenched punk influenced pop that is a LOT of fun. They are at their strongest when they are shuffling along to uptempo rhythms. This six track EP is a strong outing that shows an alt-rock band starting to flex their muscles. To me, the standout track is the opener "Daydream" that sounds like the members of Koufax's kid brothers started a punk band. Watch for Horses is a nice sunbeam of light when compared to the rest of Wiretap's 2016 lineup.
Cables & Arms - Framing Defeat for the Critical Eye - Released: February 20
Given that Wiretap Records is named after Sparta's debut Wiretap Scars, it's only fitting that they would release a band at some point that follows in Jim Ward's post At The Drive-In footsteps. Fans of pre-Keely Davis Sparta are going to find themselves something to absolutely love in Cables & Arms. This four piece that describes themselves as pure bottom-dwelling fury from San Francisco, CA maintain have written a record that hurts in all the right ways. Add choruses like the soaring "Hang the Moon" and you have a record that post-emo-core fans should be lining up around the block for. This is a band that can't be anything but spectacular live. Their website has a Frodus like feel to it which isn't a bad thing at all either: http://www.cablesandarms.com/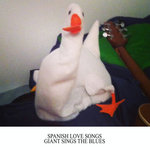 Spanish Love Songs - Giant Sings the Blues - Released: February 12
Spanish Love Songs waste absolutely no time jumping in and getting started on Giant Sings the Blues. "Bad Day" is a takes off like a jet from a aircraft carrier hitting top speed immediately. The record doesn't keep that frenetic pace through its 13 tracks, but instead, works the pace like a magician choosing to ramp things up and dial it back at exactly the right moments. While poppier than label mates Wolves & Wolves & Wolves & Wolves, Spanish Love Songs still mines the aggressive vocals paired with poppier punk rock vein. Fans of The Break and The Menzingers will find this excellently catchy record a welcome addition to their collection.
---------------------------
For those keeping count that's three LPs and three EPs released by Wiretap in 2016. The label has done an excellent job so far and I for one am anxiously waiting to see what comes out in the next year. Head on over to www.wiretaprecords.com to learn more.
#WiretapRecords #SpanishLoveSongs #CablesandArms #WatchforHorses #KamikazeGirls #WolvesandWolvesandWolvesandWolves #GetMarried