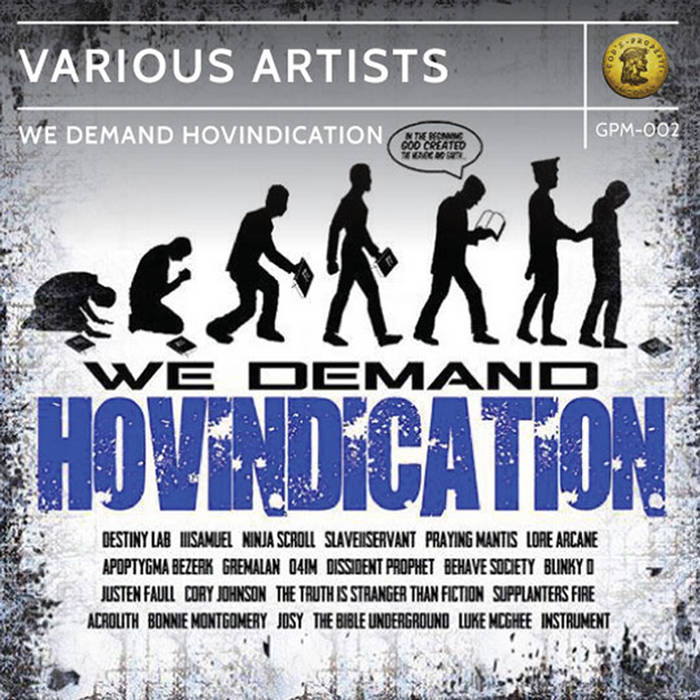 Various Artists
We Demand Hovindication
God's Property Media
https://godspropertymedia.bandcamp.com/album/v-a-we-demand-hovindication
Release date: March 10, 2015
Every year a handful of compilation albums come out with the goal toward supporting a cause, whether financially or by raising awareness.  While many outside the walls of Christendom may not be familiar with Dr. Kent Hovind, the Christian educator, speaker and crusader for creationism was imprisoned for failure to pay taxes.  The fly in the ointment is that Hovind, widely known as Dr. Dino for his creationism teachings and ministry oriented theme park Dinosaur Adventureland, was accused of failure to pay taxes on his tax exempt ministry, causing a catch 22 that saw him spend 8 years in prison.  His recent release and vindication came after a lengthy court battle.  God's Property Media put together We Demand Hovindication to raise funds to provide for Hovind's needs, legal and personal, during his time of imprisonment. 
Musically, these 25 tracks fall into two categories:  Hip hop and other.  There are a lot of hip hop artists on this compilation.  The collection gets its name from the opening track "Hovindication" by Destiny Lab.  The duo has two selections among the track listing, including the previously mentioned opener and "It's Elementary."  The latter track is an amusing romp delivered like a snooty lecturer pointing out absurdities related to evolution.  Destiny Lab is, as always, cutting edge, informative and unique.  Praying Mantis gives a Cypress Hill style performance on "The Scroll of the Gladiators," with rough edged vocals with a hint of a British accent setting them apart from their hip hop brethren.  041M's track "Focus" lays bold lyrics over an ethereal soundtrack.  Gremalan comes across as a clean Eminem, using the hip hop superstar's vocal style and dark backing music impressively.  Other rap artists on this compilation include Ninja Scroll, Lore Arcane, IIISamuel and Blinky D. 
The other half of the tracks on this release come from around the spectrum of rock, with the exception of Bonnie Montgomery's Joan Baez meets Bill Mallonee folksy "Blood From A Turnip."  Apoptygma Berzerk's updated new wave sound mixes a bit of Duran Duran and Pet Shop Boys with modern rock on "Asleep Or Awake" in a way that drives the melody deep into the listener's brain.  Alt rockers Dissident Prophet sing about the dangers of becoming lackadaisical in one's faith on "Comfortable In Babylon."  Behave Society's "Burning Babylon" is catchy rap rock in the vein of EDL or POD.  Acrolith delivers a six minute homage to classic British heavy metal like Iron Maiden and Judas Priest named fittingly "When the Claws Come Out."  SlaveIIServant's track "Baptized In Credit (Gonzo Shimura Remix)" is electronic melodic alt pop with great harmonies and a constantly shifting groove.  Other rocking songs include Luke McGhee's take on Christian stoner rock ("Ghost Inside"), Justen Faull's emo stylings ("Start Again), and the grungy alt rock of Supplanter's Fire ("Solitude"). 
We Demand Hovindication is a compilation that comes from all over the world of modern music.  Personally, I'm not really a hip hop fan, but some of these artists, particularly Destiny Lab and Gremalan, really grabbed my attention in a good way.  Many of these songs contain audio samples of Kent Hovind's speaking engagements, giving the listener a primer on Hovind's ministry, and the crisis he was in at the time this collection was released.  It would be another year after this album hit the market before Dr. Dino would see freedom.  Hovindication has been achieved, and this set of songs by likeminded artists is not only a tribute to Dr. Kent Hovind, but a testament to what independent artists can achieve working together. 
Reviewed by Jim 1340
[hmyt]https://youtu.be/Ns66JIXsau4[/hmyt]
#Compilation #WeDemandHovindication #GodsPropertyMedia #Jim1340