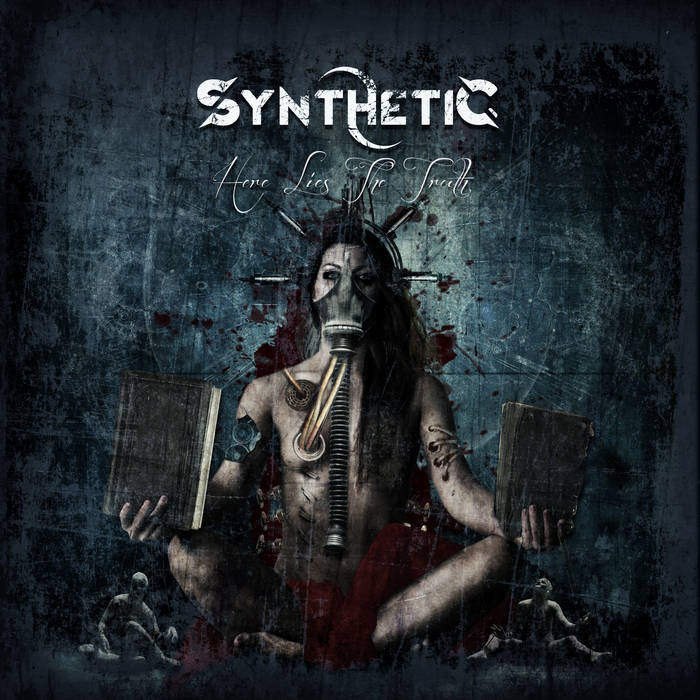 Synthetic
Here Lies The Truth
Independent
https://synthetic2.bandcamp.com/
Release Date: March 5th, 2016
Originating as a tentative musical project which initially was intended to be a studio endeavor only, Synthetic, a project involving founding members Sterge B. (vocals) and Simon Charkas (guitars) who played together in their former band Dimensional Traces, has already made quite an impact in the metal scene with their debut album Here Lies The Truth.
There's a lot going on here, a number of noticeable influences, and so it's not immediately evident where these guys are coming from (that happens to be Cambridge, UK at the moment).  Take post-industrial melodic metal and stir in a generous helping of prog metal and you've got a good idea of what Here Lies The Truth has in store for you.  The album opens with a minute and a half long intro featuring subtle chords, haunting keyboard work, and somber percussion, which builds up steam into a symphonic and slightly operatic flourish that leads directly into the pounding prog metal force of "Lie".  The vocals are mighty, both sonorous and gritty, the guitars and percussion sharp and heavy.  I'm reminded somewhat of Queensryche's most powerful moments, though Sterge B.'s vocals are considerably more weighty than Geoff Tate's ever were.
The album continues to be both heavy hitting, and surprisingly melodic.  It's like the musical equivalent of Muhammad Ali's motto: "float like a butterfly and sting like a bee", that's precisely what Synthetic deliver with this album; the muscle of melodic death metal and the finesse and attention to nuance of progressive metal. Everything is exceptionally tight on this album, the whole thing is fantastically produced by Ettore Rigotti of Disarmonia Mundi.  To think that this entire endeavor is an independent, self-released project is truly amazing. 
Thanasis Lightbridge performs the majority of the percussion work with the exception of "Hollow" where the band enlists the aid of Soilwork's Dirk Verbeuren. Lightbridge is also responsible for the supremely skillful keyboard arrangements and effects, which are an integral part of what makes Synthetic's sound so unique. For touring purposes the rhythm section will be handled by drummer Joe Ricciardi and bassist Chris Cassidy. Guitarist Hallam Smith has also been enlisted.  With that being said, the touring band will be a considerably different animal than those responsible for the studio work.  Presumably everyone on board is fully capable of retaining the album's original feel.
Reviewed by: Farron 1340
[hmyt]https://youtu.be/aCFG_rdFtXA[/hmyt]