>
>>>
Red Hot Chili Peppers
The Getaway
Warner Bros. Records
Release Date: June 17, 2016
To be honest, for those of us that have been there since the early days there are a lot of red flags regarding The Getaway. From the trendy looking album cover to the band partnering with Dangermouse (in lieu of Rick Rubin) to a new guitarist, everything about this album screams, "Be careful, man!" One thing is for sure, this ain't your momma's Red Hot Chili Peppers. Much like Jane's Addiction, fame, age, and sobriety have certainly mellowed these guys out (just like the rest of us) and The Getaway is sort of the culmination of that.
The album starts off with its strongest pair of tunes. The title track kicks it all off with the funky bass and stuttering guitars that you would expect. While melancholy, it's a really damn good song that sets an intimate tone for the album, which is certainly the vibe they are going for. "Dark Necessities" creeps in next, employing a piano and a funky bassline as Kiedis gets a little soulful vocally. The wah-wah guitars fill in the background before it crescendos into a melodic, yet atmospheric chorus.
Unfortunately, the album goes downhill fast after the initial tracks. "Go Robot" is worth mentioning but it's old-school funk pump never quite gets off the ground with Dangermouse sprinkling electronic bits all over the place and Kiedis insistence on singing throughout the entire album. "Detroit" gets a little heavier and tries to bring that positive, anthemic vibe back into the mix but it's lack of ballsy guitar work hurts it and the chorus sounds like the whole thing is falling apart, from Kiedis off-key vocal to the mix being terrible.  Another interesting note is that Kiedis employs the lower-register vocal that he has been using on and off for probably a decade now and it's disappointing that he doesn't even attempt to break free from it all that much.
There are no anthems to speak of here and while technically proficient and cool at first, the laid back vibe gets old pretty quick. At the end of it all, The Getaway makes you long for the positive energy that makes the Chili Peppers who they are. For me, this one feels like it should have been called Dangermouse featuring The Red Hot Chili Peppers.
Reviewed by mark1340
This text will be replaced
#RedHotChiliPeppers #TheGetaway #WarnerBrosRecoreds #Mark1340
>
>>>
Damon Johnson is one of Rock and Roll's most sought after artists. A true artist's artist, Johnson made his name in the early/mid-nineties with Brother Cane and in recent years has played for Alice Cooper and Thin Lizzy as well as with his own Black Star Riders.
He just released his solo EP, Echo, and we were fortunate enough to catch him via email in between Thin Lizzy tours. Here's what he had to tell us….
Hey Damon! How are things? I'm assuming you are pretty busy these days with the new EP and being out with Thin Lizzy!
It's a busy year for sure. Am elated to get my solo music released, and this select group of Thin Lizzy dates should be a good time. And then BSR is back in the studio in August. I love all the activity.
First off, it's awesome to hear you doing some of your own stuff again. With Black Star Riders success and playing with Thin Lizzy, what made 2016 the right time to release some of your solo music?
I've done a fair amount of performing solo acoustic over the past 15 years. It's kept my singing and performing chops in shape, even while I was working with Alice, Lizzy, and Black Star Riders. My profile has enjoyed a boost from the success of BSR, and it's been flattering to have so many fans reach out and basically say, "hey Johnson…don't forget to get behind the mic with that Les Paul in your hand, like we know you can do." Am hoping and intending for 'Echo' to simply be the tip of the iceberg, in between BSR activity, going forward.
Do you ever feel like life is too busy for your own music or are you constantly writing new music of your own?
I've worked hard to simplify my life and my schedule in the last 4 years. My family is certainly my main focus, as they support me following my bliss with my music career. I've cut way back on the golf, and on going out just to see bands and drink beer (ha!), so there's rarely a day that goes by that I'm not bashing on my acoustic, singing a new vocal melody or riff into my iPhone, sending it to Ricky for BSR, or logging it for a possible song for myself.
One of my favorite songs on the Echo EP is "Scars." Would you mind telling our readers a little about that song and maybe the inspirations/ideas behind it?
Thank you. "Scars" was written by my long-time friend and collaborator, Marti Frederiksen. He played me a batch of things he'd been working on a couple of years back, and that song slayed me. The line that says "what makes us great are the scars" spoke to me on many levels. I'm grateful to him for giving me the green light to record it, and I couldn't be more pleased with how it turned out. It's absolutely my favorite track on the album.
Echo has a very bluesy feel to it overall. When you went to the studio, what did you want to accomplish with these songs? Was there a certain thought or feeling you hoped to convey to the audience?
That bluesy feel is imbedded in my DNA. It doesn't matter if I'm recording with Alice, Slave To The System, Brother Cane, Black Star Riders, or someone else's album. "Bluesy" is the adjective people most use to describe my playing and singing. I admit there being a time that I tried to maybe distance myself somewhat from that, particular in the 90's when alternative was dominating the radio and we (in Brother Cane) were trying to stay alive as a viable band. But I'm born and raised in the South. The melting pot of music that I've been exposed to since childhood is simply the greatest learning tool anyone on the planet could ever ask for. I'm very grateful to be confident in where I'm from and who I am as an artist.
Which song on Echo do you feel represents you the best? Why that song?
Haha! THAT is the greatest thing to me about 'Echo': it takes all five songs to express the different colors and dynamics that represent me now, and that really have represented me my entire career. Each song is very different in vibe, tempo and style. My daughter says, "Dad, you're a hot mess, musically". I couldn't agree more.
As an established and respected musician, from your point of view, should new bands focus on shows or on making a demo or album first?
It's all rolled into the same package. There are exceptions, but it's really been the same for all bands and artists for decades: write great songs, record a great album, and then bust your ass touring to build a fanbase. And repeat. And the good news for young bands trying to make an impact in this crazy time in the music industry is that THOSE are all things they can control. Labels, distribution, promotion dollars…you can't control that. Make great art and that other stuff will take care of itself. It just will.
How does the music scene differ from when you started out with Brother Cane?
The concept of "artist development", at least as investment of a record company, is completely gone forever…never to return. Bands have to think like a business from the beginning, rather than just about "getting signed" or getting monies advanced. And more than that, music does not seem to be in any way near the priority for the current generation that it was in 1992. As young people, we either loved music or sports or both. And I'm not saying the change isn't good…just sayin' it's WAY different now than it was when Brother Cane started.
You have played with some of the biggest names in Rock and Roll and have had an amazing career so far. Do you ever get the itch to pursue your solo career or reunite Brother Cane full-time or do you prefer to just enjoy playing with/contributing to other bands?
At the moment, I am very fulfilled to be in Black Star Riders and to continue growing my solo career at the same time. There is the probability that BSR will never be as big as Thin Lizzy, or certainly Queen or U2. The odd song contribution to other bands or artists is always fun and I'm happy to help out when I can. But going forward, I'm more focused than ever on my band and my own music.
Any chance we will see any solo shows in the near future?
After performing with Thin Lizzy this summer, and completing the next Black Star Riders album in August, I'm taking my solo band out to play some U.S. dates during September, October and November. Am hoping to have those dates confirmed and posted in the coming weeks.
Thanks so much for your time. This is an excellent EP (I wish it were a full length!) and I wish you all the success in the world with it. Are there any parting thoughts you'd like to leave our readers with?
Thank you and thank them for listening! Combining these EP tracks with five more songs in the near future is without a doubt my goal, and I'd love to release them all together as one full-length album. Hopefully soon!
>
>>>
Damon Johnson
Echo
Double Dragon Records
Release Date: March 21, 2016
When you play with Thin Lizzy and Black Star Riders, I would imagine that it gets complicated trying to find the time to record, promote, and support music under your own name. On the other hand, when your history also includes playing with Alice Cooper, Slave to the System, and being a founding member of the criminally underrated Brother Cane, how could you not release your own material?! Thankfully, Damon Johnson has thrown us a bone with Echo, the first release under his own name since 2010.
To be honest, Echo is well worth the wait. Well, worth it. Johnson showcases his chops on only five songs here but their varied styles (all of which are anchored by the bluesy Rock and Roll he is best known for) prove that he is one of the most versatile players out there today.
The album kicks off with "Dead" which has a heavier feel to it than the other tracks. It's heavy verses and jangly chorus remind me of the best side of the late eighties/early nineties Hard Rock scene that never got much of the attention. "Nobody Usin'" brightens up the mood a bit with a big ol', riff rockin' tune that features a big, melodic chorus and some bluesy underpinnings. If you had any question at all why he ended up in Thin Lizzy, this one should answer your inquiry.
Meanwhile, "The Waiting Kills Me" is a big ballad with a heavy rhythm section driving the guitars. The acoustic guitar rhythm work perfectly offsets the big electric leads. "Just Move On" is an Americana rocker that reminds me a lot of John Mellencamp's best work. It's got that Midwest workin' man feel to it.
While I love every single song here, it's "Scars" that really floors me. It's got a broodier feel to it musically (despite the fact that it's got a really positive vibe) that makes it stand out. The chorus just explodes and Johnson makes you feel it man. While it doesn't necessarily sound like them, it makes me hope for another Brother Cane record someday.
This is just an excellent EP from start to finish. If you enjoy any kind of Rock and Roll then you should own this. It's a perfect companion for summer days!
Reviewed by mark1340
This text will be replaced
#DamonJohnson #Echo #DoubleDragonRecords #Mark1340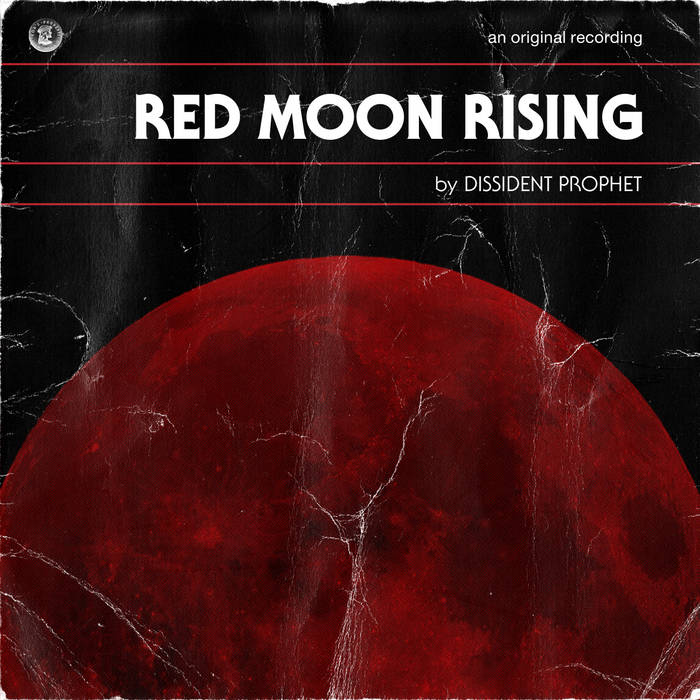 >
>>>
Dissident Prophet
Red Moon Rising
Independent
http://dissidentprophet.bandcamp.com/
Released on June 29, 2015
Birmingham, UK has produced many noteworthy musical acts over the years.  Such diverse bands as The Moody Blues, Black Sabbath, and Duran Duran hail from this locality, and each can be considered an iconoclast, eschewing the trends of the day to create something new and exciting.  Dissident Prophet is following in the footsteps of their Birmingham forefathers, creating indie music that pulls from a variety of influences.  Interwoven into the bedrock of U2, Crowded House and Echo & the Bunnymen are liberal amounts of folk, rockabilly and punk, and an apocalyptic vision that is at the core of the band's message.  If the sound of the band's name evokes images of a lone voice crying warnings from a street corner, the reality that is Dissident Prophet's Red Moon Rising isn't too far from that vision. 
It's clear from their lyrics that Dissident Prophet is a band with a mission.  Listening to just a handful of songs you'll find religious imagery and conspiracy theory themes.  Christianity is obviously at the core of these songs, but a more free thinking, human centered faith than what televangelists and your granddaddy might preach.  Dissident Prophet appear to be targeting the fringes of the faith – the devout who question how their beliefs fit into today's society and technology.  The album opens with "Human 2.0," a cautionary tale about the growing transhumanism movement and its goal of altering humanity through science.  The opening guitar riff pays homage to, fittingly, The Church, and hits a mid-paced stride that establishes the pace for the rest of the tracks.  It's in this groove that Red Moon Rising makes its stand. 
As these songs run their course a broad range of sounds and emotions are presented.  "Getting Comfortable In Babylon" adds a bit of rockabilly, and speaks out against spiritual complacency with a wit that brings to mind Steve Taylor's snarky soliloquies.  "Jerusalem Descending" takes a gypsy folk road that would fit well on a Voltaire album.  The lyrics speak longingly of a future time when all is set right after the return of Christ.  The plaintive vocal melody creates images that will resonate even with those who might not be in line with the band's worldview.  "Dig" flows back and forth between proto-lounge music and punk rock, with a bit of Blur thrown in for good measure.  "All Coming Down" has a garage rock groove that is perfectly suited to Dissident Prophet's indie rock sound.  Soaring over the disco fueled guitar riffs of "How Long" are full harmonies that add depth to the chorus.  The songs presented span genres and the breadth of human emotion. 
Dissident Prophet makes no excuses for being on mission on these songs.  "The Word" uses the first chapter of the Gospel of John as lyrics, while alternately channeling the grooves of lo-fi masters like Pavement and 90's punk-informed alternative a la Morella's Forest.  "He Sat Down" tells the story of the last supper, with Jesus washing the feat of his disciples.  Musically in the same vein as the folksy "Jerusalem Descending," lyrically this track juxtaposes the servant who cleansed the dust from his follower's feet and died horrifically with the image of a coming king, ending Red Moon Rising on a hopeful note.  It's clear that this is a band that has defined their vision, and is forging their own path against the grain of unbelief.  Lyrically, these songs may not appeal to everyone, but musically, there is depth and emotion here that can't be denied.  I didn't expect to like this album as much as I did, but the raw emotion and constantly changing soundscape had me intrigued after just a few songs.  Indie rock fans will find much to enjoy on Red Moon Rising.
Reviewed by Jim 1340
This text will be replaced
#DissidentProphet #RedMoonRising #ApocalypseRock #Indie #Jim1340

Rachael Sage

Choreographic

MPress Records

Release Date: May 20, 2016

www.RachaelSage.com

Rachael Sage first came to my attention over a decade ago when I saw her open for Ani DiFranco. There was a fierce NYC scene back then that you simply couldn't ignore. The talent of Sage, Jen Chapin, Marly Hornik, and Gail Silverman was undeniable and Sage and Chapin, in particular, continue to prove it to this day. For her 12th studio album, Sage has created an album full of tracks that are tailor made for the lyrical dance community (which have been using her music for YouTube videos for years) while re-embracing her love of ballet.

Choreographic is an unstoppable force, to put it mildly. In recent years, Sage has embraced her Folk side a bit more but this is a return to the sound of her original trio of albums while embracing the vast songwriting knowledge she has acquired over the years. "I Don't Believe It" is the best example of this, it's driving piano and fast-paced vocals are lifted to the stars by soaring background vocals and a hook (provided by the string section) that sinks in and doesn't let go. It's fierce and in your face and unapologetic….a lyrical and musical testament to never giving up.

Another favorite here is album opener "Heaven (Is a Grocery Store Clerk)." It's positive, upbeat longing is, again, driven by the piano and vocal but the big Pop hooks and the strings make it feel huge. Sage's gentle, breathy voice is on 10 here as well, reminding the listener of the power her unique voice has. "Try Try Try" is another Pop-oriented tune that reminds me a lot of really early 10,000 Maniacs. It's upbeat and poppy but the handclaps and strings give it an Indie Rock vibe that makes you instantly fall in love with it.

On the other side of the coin, "French Doors" takes those breathy vocals up a notch and puts them to use in a bluesier way. The song takes a bit of the Big Easy, a bit of NYC, and a smattering of Sage's classical training and blends them into a beautiful, intimate piece. The acoustic version of "Home" ends the album with the sound of victory; huge vocals, intimate music, and relatable lyrics that offer some insight into who Rachael Sage is at the heart of it all.

If you love Pop music with nods towards Folk, Indie Rock, and Singer/Songwriter (or any of the artists mentioned in the review) then you must not miss out on Choreographic. I have followed Sage her entire career and this feels like her most accomplished work. It even makes me feel like dancing (which is saying more than you could ever realize!).

Reviewed by mark1340
This text will be replaced
Next