September Mourning
Volume II
Sumerian Records
www.sumerianrecords.com/
Release Date: July 29, 2016
September Mourning is a "transmedia dark culture" project from performance artist/vocalist Emily Lazar and comic book guru Marc Silvestri (various X-Men Titles and CEO of Top Cow). The story features a human-reaper hybrid named September (Lazar) who navigates the worlds of both the living and the dead, challenging fate by offering some humans a second chance. Volume II may be the second release from this project but it appears to be much more widely accessible then previous comic and album releases.
Musically, Volume II is really strong. It features aggressive guitars, soaring vocals, melodic choruses, and a smattering of electronics to round it all out. It even gets Screamo heavy for quick bits here and there. While, I wouldn't call this sound unique at all, the subject matter gives it an edge for sure and the production is as crisp and clear as they come. "Superhuman" is a highlight here for me. It's one of the most radio-friendly songs but it's got an anthemic quality to it that I dig and a super-catchy chorus. There's a break midsong as well that turns it all upside down with a twisted carnival flare before returning for the last big chorus run. 
"Children of Fate's" dark vibe is cool too as it's punchy, tight verses wrap around a creepy bridge that explodes into a very Alice Cooper-esque chorus topped off by some screaming (just enough to catch your attention without pissing your ears off). While most of this album is darker in nature, the album's closer, "Til You See Heaven," takes a slightly different road, immediately setting it apart. It's got a Thirty Seconds to Mars and Seven and the Ragged Tiger era Duran Duran kinda vibe. Huge echoing drums drive it and the vocals really stir you up, but what really makes it a force to be reckoned with are the strings. When the strings come in, the song pulls back a bit and gives you time to reflect before hitting you one more time with the lighter worthy chorus. It's a really upbeat and positive tune that takes the album out on just the right note, making you want to dig right back into the journey.
If you are musically a fan of Alice Cooper's post 1995 albums, In This Moment, Evanescence, or Thirty Seconds to Mars then there is a lot here for you to latch on to. Lazar is a pretty stunning vocalist and most of the album is pretty radio-friendly so there is a lot that you can sing-along to. Of course, stories of the disenfranchised always make for the best lyrics and you get that in spades here as well.
Reviewed by mark1340
This text will be replaced
Controlled Bleeding
Larva Lumps and Baby Bumps
Artoffact Records
www.artoffact.com
Release Date: August 26, 2016
Founded by Paul Lemos in 1978 Controlled Bleeding is a band that commands respect. With a near literal ton of releases, the band are probably best known to the masses as a pioneering industrial band, although they have never stuck exclusively to that style. In addition to a series of reissues, the band is also offering up a double-disc of all new material entitled Larva Lumps and Baby Bumps. 
Every once in a while, an album comes along that is intensely hard to describe and this is certainly it. One moment it's ambient and fluid and five minutes later it's challenging every ideal you have about music. Disc 1's 22:30 journey "The Perks of Being a Perv" is probably the best example of this. It flows in and out of heavy, industrial guitars to distant, pulsating, effects laden soloing. The last roughly one-third of the song is dissonant scaling to an oompa backdrop. On paper, nothing in this song should work but it's the tune I find myself returning to over and over again. 
"Carving Song" causes an excellent racket with squealing guitar work, a groovy drum beat, and a Jazz Fusion level middle finger to the mainstream. "Trawler's Return" (Disc 1) and "Trawler's Song" (Disc 2) are driven by the same catchy-as-hell bass riff and impossible not to dig into with both your head and your feet. It's almost got a heavy jam band vibe. My favorite moment from them comes at the end of "Trawler's Song." About the last minute and a half of the song everything just goes crazy. It gets so groovy that you just get lost inside of it as the drums and guitar go insane together, totally setting you up for "Eye of the Needle's" ambient comedown.
Controlled Bleeding pushes the boundaries between machine and live instrument brilliantly on Larva Lumps and Baby Bumps. It barely offers any vocal work but it seems to free the music up immensely. If you enjoy Coil, Swans, ISIS, Mental Destruction, Vernon Reid, Lou Reed's Metal Machine Music, or Ulver's Industrial leaning albums then you need to check this out. It's quicker-paced than almost any of those artists/albums but it's every bit as experimental. Larva Lumps and Baby Bumps isn't afraid to go anywhere, fully embracing whatever it can, whenever it can.
Reviewed by mark1340
This text will be replaced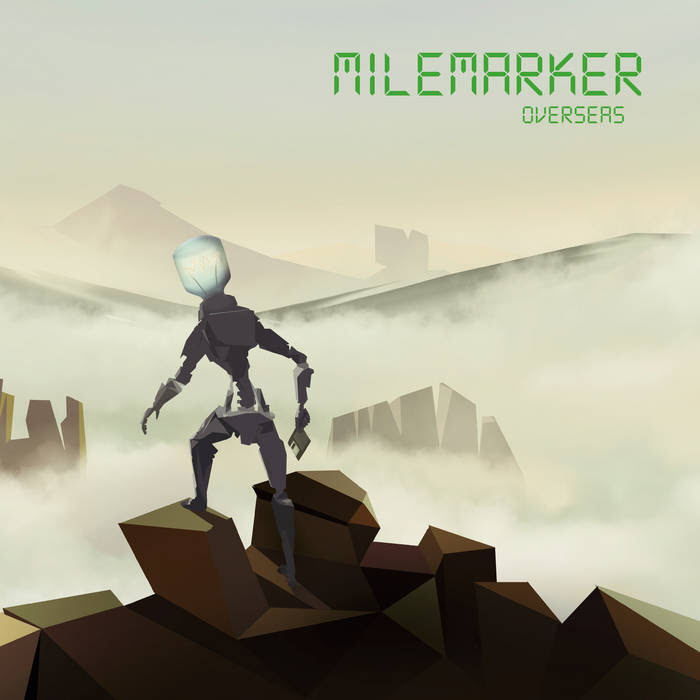 Milemarker
Overseas
Lovitt Records
https://milemarkerband.bandcamp.com/
Release Date: August 26, 2016
Any music fan has bands that define different periods of our lives. For those of you who don't get what I'm talking about watch this scene here. For me the past year or so of my life has been the Milemarker period. I've raged with Future Isms. My insides have been numbed solid by Frigid Forms Sell. Dance parties have been held to Anaesthetic and portions of Changing Caring Humans. I've learned from Ominosity & Non Plus Ultra (the albums I missed). Satanic Versus has been the soundtrack of my battles with some massive change in my life. All in all, I've related strongly to the work of Al Burian, Dave Laney and whomever was along for the ride. 
Needless to say, I was ridiculously excited when Overseas was announced. The day I saw it I ordered the colored vinyl option (it's a gorgeous clear green with black smoke). I waited with baited breath. I was excited by the Conditional Love single even though the packaging was as lazy as possible (it's a paper sleeve with a tiny sticker). The day I received the record I listed to it multiple times over. And since then I've gone back to it a few times, but I wanted to wait before I wrote this review.
Overseas is a good record. The songs are solid. The sound is a little older, more rock than hardcore, but it's still Milemarker. Yet, it's not Milemarker. The thing that defined everything Milemarker did before Ominosity was that it was angry. Not every sound was punk in it's tone, but the rage and attitude behind was a punk as can be. Heck, Al Burian even made working at Kinko's into the world's angriest profession in his Burn Collector zine (I still want to ask every FedEx Office worker I run into if they have seen his work). This big difference between this and their prior work is that rage has been sated.
So what are the stand out tracks? The closing "Supercomputer" hearkens back to early Milemarker with it's solid riff and Al Burian's yells mixed with gang vocals. It's the strongest track on the album and a shame that it's last.  "Conditional Love" the opening track sets the tone for the album with it's futuristic rock vibe a solid synth line and blend of processed and clean vocals. The most punk track on the album "Carrboro" sounds like it could have been a b-side to Frigid Forms with it's synth work. 
Overseas is a solid "grown-up" album from Milemarker. If you are a fan of their prior work it's definitely a solid pick up. It's a great futuristic synth-rock effort. I just wonder what would have happened if Dave & Al could have convinced Roby Newton to add her voice to the songwriting process.
Reviewed by: Rob Froese
[hmyt]https://youtu.be/4P6YTXMirQY
3 Pill Morning
Never Look Back
Countdown Entertainment
www.countdownentertainment.com/
Release Date: July 29, 2016
Minnesota's 3 Pill Morning have been cutting their teeth since 2004 and Never Look Back is the culmination of their hard work. Their sophomore release manages to capitalize on their debut's big hooks while tightening up the overall sound and branching out just enough to loosen the grip that generic Hard Rock had on them. In other words, this is not a sophomore slump record.
If you enjoy big anthems then 3PM has your back here. Song after song features catchy melodies, aggressive guitars, and soaring vocals. The band manage to keep your attention though by never sitting still, creating a pretty dynamic group of tunes. Most of all though, they play it like they mean it. 
The title track is hands down my favorite track here (which rarely happens). It's got a great groove that is kicked off by some synth work and some big ol' "Whoa's!" It feels really huge and Jeff Stebbins vocals are really emotional. It quickly becomes a sing-along that connects with me on a musical and lyrical level in a way that the other songs don't necessarily. It's coupled brilliantly with the somber "Vultures," which is a power ballad in the best possible sense and reminds me a lot of the first Fuel and 3 Doors Down albums. "The Hunted" is another excellent tune that transitions seamlessly from aggressive to anthemic and is a great example of how good Stebbins is vocally.
Overall, I really dig this album. I enjoyed their debut, but everything on Never Look Back is turned up a notch or ten and you can certainly feel the band going for it. Sure, they aren't breaking new ground, but sometimes you don't have to reinvent the wheel. If you are a fan of radio-friendly Hard Rock bands like Alter Bridge, Fuel, 3 Doors Down, Full Devil Jacket, and Shinedown then you should unquestionably own this album. You won't regret it. 
Reviewed by mark1340
This text will be replaced
Next