Mercury's Antennae
Beneath the Serene
Projekt Records
https://mercurysantennae.bandcamp.com/
Release Date: March 4, 2016
Beneath the Serene is Mercury's Antennae's first release as a trio and helps the band more thoroughly explore the dark forests of The Cure and the Cocteau Twins without leaving their own uniquely ethereal sound behind. In addition to the band, the album also features contributions from Ingrid Blue (Trance to the Sun), Summer Bowman (Mirabillis, the Machine in the Garden), and Neil McKay (Autumn). It's been awhile since I have delved into the world of Projekt Records but one listen to Beneath the Serene reminds me how much I have missed this genre. 
The album opens with the neo-classical "Le Spectre Concubine," which sets the mood for what is to come. It slowly, and literally, blows in the keyboards and samples before the drum machine echoes into "Ivy Tree Shore." This song may, in fact, be my favorite track of 2016 so far. The haunting, gentle female vocals that float atop the droning drum machine and fluid bass are a truly gorgeous combination. It reminds me a bit of the more ethereal sounding aspects of The Gathering. The more expansive "Into Lost and Away" has that same fluid aspect to it but it's plodding rhythm and faster tempo make it undeniably enjoyable. In my opinion, "Silivren" is another highlight as well. It features beautiful acoustic guitars enhanced by soft keyboard and sample work. It's absolutely mesmerizing in its simplicity. 
Beneath the Serene is a very somber album and the songs are so well-crafted that you'd be crazy not to give it a chance. It's one of those albums that, as the title suggests, prompts you to reflect on life's unanswerable questions. It's far from background music and perhaps best suited to the midnight hour through a set of quality headphones. It's an album that is both tranquil and inspiring and an excellent addition to the Projekt Records catalog. 
Reviewed by mark1340
This text will be replaced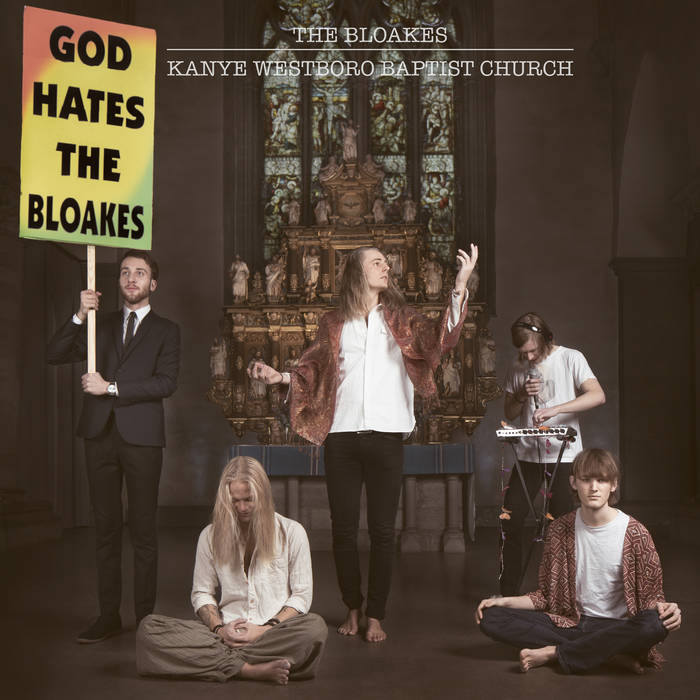 The Bloakes
Kanye Westboro Baptist Church
Moving Air Music
https://thebloakes.bandcamp.com/album/kanye-westboro-baptist-church
Release date:  May 20, 2016
Sweden's The Bloakes are not a band that feels the need to make music that reflects current trends.  In recent years, there has been a revival of the 1970's rock style that has brought the world bands like Ghost, Gentlemen's Pistols, and a horde of similar groups who play an amped up version of retro rock.  The Bloakes look back even further, channeling the music of the 1960's and morphing it with modern rock melody and production to create something unique in today's musical landscape.  The sound is flowing and tripping, and heavily influenced by the Beatles and Pink Floyd.  The result is the interesting ride that is the band's five song EP Kanye Westboro Baptist Church.  
Let's start with the obvious:  Kanye Westboro Baptist Church may be one of the most amusing album titles to grace record stores this year.  While the lure of a 1960's influenced rock band wasn't enough to pique my interest, the album title did, and I'm glad it's allure convinced me to listen.  The Bloakes sound like Oasis if they were true to their roots rather than trying to write hits.  Vocalist Isak Smars reminds me of Liam Gallagher, with more bass in his tone.  Many of the vocal melody lines could have shared space on an Oasis album easily.  Where The Bloakes differ is in their trippy arrangements. Reverb soaked guitars swirl and echo hypnotically, and the underlying organ that thickens the mix take the listener right back to the days of free love and protest rock.  
"The Bright Side" opens this collection with a laid back rocker that builds as it progresses, greatly due to the drumming of Arvid Engdahl, who not only keeps the beat, but builds and releases tension to control the flow of the song.  "For A Better End" follows, and again finds Engdahl creating the mood, and allowing ample space for guitars and drums to create an atmosphere which cradles the vocals.  "Tell Your Children" is lyrically a bit of a throwback to Jefferson Airplane's hit "White Rabbit."  It's references to going down the rabbit hole, the mad hatter, and Alice bring to mind the classic hit.  The chorus is punctuated by simple piano chording that adds depth, giving a grand sound to those sections of the song.  "Moscow Ages" closes this release with the kind of proto-Indian sound that was pioneered by the Beatles' George Harrison.  Guitar and sitar sounds wrestle back and forth, creating a vibe that's full of energy, building until its chaotic conclusion.  
Overall, Kanye Westboro Baptist Church is a fun musical diversion.  There is nothing else in the current music scene that sounds quite like what The Bloakes have created.  Where this doesn't work is the few sections that sound a bit too much like their influences.  The opening sitar on "Moscow Ages" is nearly identical to that of a classic hit that most listeners will recognize immediately.  The songs alternately come across as refreshingly original, or as pseudo-covers of 1960's hits.  Either way, they are well performed, and this album is, in a word, fun.  The Bloakes manage to create a retro rock sound that goes beyond the realm of novelty.  Their fresh take on a classic sound easily brings the listener in, then twists in unforeseen ways, providing a fresh perspective on a tried and true formula.  
Reviewed by Jim 1340
#TheBlokes #KanyeWestboroBaptistChurch #MovingAirMusic #RetroRock #The1960sLiveAgain #Jim1340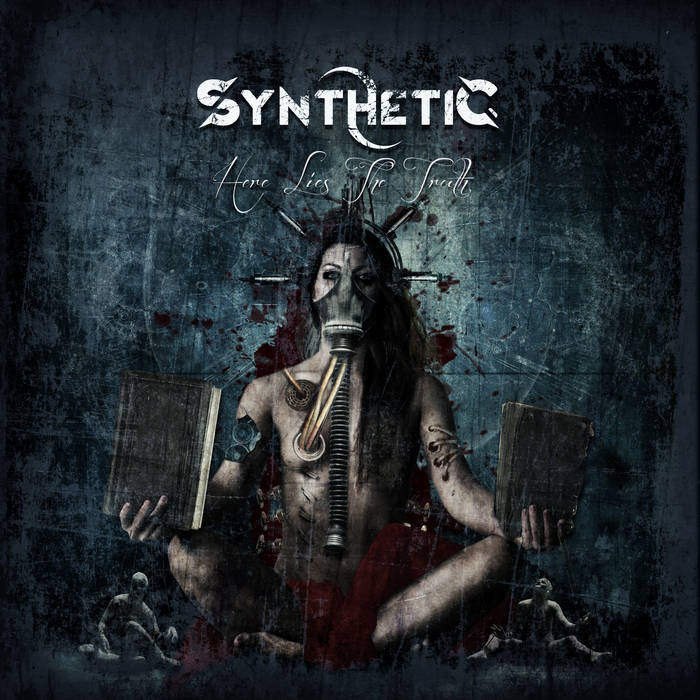 Synthetic
Here Lies The Truth
Independent
https://synthetic2.bandcamp.com/
Release Date: March 5th, 2016
Originating as a tentative musical project which initially was intended to be a studio endeavor only, Synthetic, a project involving founding members Sterge B. (vocals) and Simon Charkas (guitars) who played together in their former band Dimensional Traces, has already made quite an impact in the metal scene with their debut album Here Lies The Truth.
There's a lot going on here, a number of noticeable influences, and so it's not immediately evident where these guys are coming from (that happens to be Cambridge, UK at the moment).  Take post-industrial melodic metal and stir in a generous helping of prog metal and you've got a good idea of what Here Lies The Truth has in store for you.  The album opens with a minute and a half long intro featuring subtle chords, haunting keyboard work, and somber percussion, which builds up steam into a symphonic and slightly operatic flourish that leads directly into the pounding prog metal force of "Lie".  The vocals are mighty, both sonorous and gritty, the guitars and percussion sharp and heavy.  I'm reminded somewhat of Queensryche's most powerful moments, though Sterge B.'s vocals are considerably more weighty than Geoff Tate's ever were.
The album continues to be both heavy hitting, and surprisingly melodic.  It's like the musical equivalent of Muhammad Ali's motto: "float like a butterfly and sting like a bee", that's precisely what Synthetic deliver with this album; the muscle of melodic death metal and the finesse and attention to nuance of progressive metal. Everything is exceptionally tight on this album, the whole thing is fantastically produced by Ettore Rigotti of Disarmonia Mundi.  To think that this entire endeavor is an independent, self-released project is truly amazing. 
Thanasis Lightbridge performs the majority of the percussion work with the exception of "Hollow" where the band enlists the aid of Soilwork's Dirk Verbeuren. Lightbridge is also responsible for the supremely skillful keyboard arrangements and effects, which are an integral part of what makes Synthetic's sound so unique. For touring purposes the rhythm section will be handled by drummer Joe Ricciardi and bassist Chris Cassidy. Guitarist Hallam Smith has also been enlisted.  With that being said, the touring band will be a considerably different animal than those responsible for the studio work.  Presumably everyone on board is fully capable of retaining the album's original feel.
Reviewed by: Farron 1340
This text will be replaced
Lita Ford
Time Capsule
Steamhammer/SPV
http://litafordonline.com/
Release Date: April 15, 2016
Since her divorce, Lita Ford has been on fire. Time Capsule offers a brief detour from the amazing Living Like a Runaway album, comprising itself of slightly polished analog demos from the pre-Lita era. It is released in conjunction with her 2016 autobiography.
The album features tons of collaborations with artists like Gene Simmons, Bruce Kulick, Dave Navarro, Cheap Trick, Billy Sheehan, and more as well as a somewhat disturbing intro skit by Chris Holmes (ex-WASP) during which he plays the angry, drunken father of a teenage Lita.
The key to this whole collection is its raw edge. Lita was certainly wise to keep it raw and rockin' because many of the songs might get lost in the shuffle if they received the "major label treatment." The duo of "Black Leather Heart" and "Rotten to the Core" are the best examples. If these two songs had been finished and released in  a typical early eighties fashion no one would remember them today, but their raw feel transports you back to a time when the Sunset Strip made everything feel fresh and dangerous. "Killing Kind" is the kind of midtempo ballad that Lita would master a few years later, but, quite honestly, it's probably one of the best songs she has ever written. I'm surprised that this was never released. The big chorus and the intermittent mandolin parts (courtesy of Dave Navarro) would have undoubtedly made for hit single.
As with any collection, Time Capsule  is a bumpy ride at best, but if you are a fan then its also a ton of fun. Everything sounds dated and kinda cheesy but given the era, we wouldn't want it any other way! Sure I'd rather have an album of new material but this is an interesting footnote in Lita history. This is worth a spin but don't expect Living Like a Runaway or Lita.
Reviewed by mark1340
This text will be replaced
The 69 Eyes
Universal Monsters
Nuclear Blast Records
Release date:  April 22, 2016
There are bands that come out with a unique sound on their debut and bands that grow into their signature approach over the course of a career.  Without disparaging their first album, Finland's The 69 Eyes are definitely in the latter category.  While the band's debut had definite glam leanings, subsequent releases have shifted more into goth territory, evoking the memory of classic bands like Sisters of Mercy, The Mission and The Cult.  Rather than eschew their glam roots, The 69 Eyes have incorporated them into the band's evolving sound, creating a sound that one might expect to hear from Tiamat, should they ever find themselves joyously happy, or Bang Tango, had they ever found their inner darkness.   The goth n' roll circus continues on Universal Monsters, the band's twelfth album. 
From the outset, The 69 Eyes aim to impress on this release.  "Dolce Vita" brings goth with a catchy melody, bringing to mind the lighter side of bands like HIM while still keeping things heavy and dark.  Vocalist Jyrki 69's deep, clear voice hearkens to goth masters like Type O Negative's Peter Steele,  Tiamat's Johan Edlund, and even Glenn Danzig.  Gritty guitars and solid drumming propel the song forward with a bit of punk attitude added to the dark tone.  Overall, this works well, and the next few songs establish this approach as a winning formula.  "Jet Fighter Plane" mixes Sisters Of Mercy style goth with a bit of glam sparkle, and "Blackbird Pie" marries muscular guitar riffs with delicate acoustic picking and ethereal keyboards, easily drawing comparisons to The Bronx Casket Company.  By three songs in I was hooked on this album. 
The 69 Eyes find their comfort zone in mid-tempo goth rock.  There is a heavy dose of rock, which makes these songs infectious, where many of their contemporaries are simply dark.  "Jerusalem" is both brooding and catchy.  "Rock 'n' Roll Junkie" comes off as a punk rock take on the Rolling Stones, and integrates the two styles superbly.  "Miss Pastis" has a dark current running under punk rock rhythms and glam riffs.  This is where Universal Monsters shines.  This is a collection of well-crafted songs, and an example of a band that has created a unique sound that makes them stand out from even those who share their genre.  The 69 Eyes get better with each release, and this release is another stellar outing from a band which continues to evolve into one of rock's most outstanding outfits, and certainly the kings of modern goth rock. 
Reviewed by Jim 1340
This text will be replaced
#The69Eyes #UniversalMonsters #GothNRoll #Goth #NuclearBlast #Jim1340
Next